A guide is someone that leads the way.
A good guide though is much more: a reliable fellow traveller, a reference you can always count on, a storyteller who can charm you while satisfying your curiosity.
The choice of a good guide is always important, but even more so during a safari in Africa, not only in order to ensure a safe and comfortable travel experience, but also to enrich it and make it truly memorable.
That is why we selected a team of experienced and highly qualified guides with different stories, interests and competences, sharing a deep passion for Africa. We are proud to introduce them to you!
Tommaso Balestrini
Born in Milan and graduated in Economics, Tommaso was bewitched by Africa and wanted to work as a guide since his first safari in Namibia and Botswana in 1998.
In Namibia he took his first steps as a guide and from that moment on he has explored most of East and Southern Africa, guiding safaris in South Africa, Botswana, Zambia, Zimbabwe and Tanzania.
After Africome was born, guiding, until then his passion and a part-time job, has become a substantial part of his work. That is the reason why Tommaso chose to deepen his knowledge acquired in the field by attending Limpopo Field Guide Academy in South Africa and obtaining the qualification of Field Guide Level 2 at the Field Guide Association of Southern Africa (FGASA).
Tommaso has managed the Milan office of Amref Health Africa, a non-governmental organization that has been operating for fifty years in East Africa realising water, health, education and childcare projects.
One safari after the other, his love for photography has developed. He has taken part in several workshops and has entered national and international competitions, winning the Oasis International Photo Contest in 2010.
Now more than ever before Tommaso lives his African dream made of freedom, extraordinary encounters, storytelling around the fire and tracks that fade into the horizon.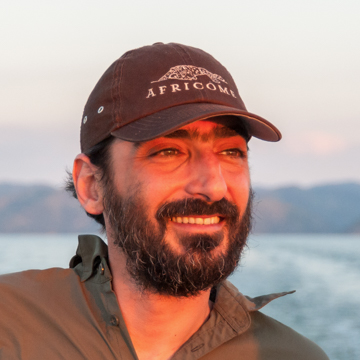 "In Africa I'm a child again, I never cease to be surprised. I love finding that same wonder in the eyes of my clients. I call it 'the face of Africa'."
Tommaso
Jackson Looseyia
Guide, trainer and conservationist, Jackson was born in the heart of the Maasai Mara, in Kenya, from Maasai parents. He started his brilliant career as guide and trekker trained by his father, who unveiled for him the secrets of the bush.
Later on thanks to Ron Beaton, one of the first conservationist of the Maasai Mara and defined by Jackson his first "white boss", he learned a lot about guiding and how to relate to foreign people, becoming one of the first true Maasai guides of the Maasai Mara.
Jackson has contributed to the creation of a school for the education of Maasai guides, where he still teaches, with the purpose of enriching their competence.
He was the presenter of the BBC program "Big Cat Live", broadcast around the world.
After managing several camps in the Maasai Mara, now Jackson successfully handles his own mobile camp, still driven by the desire to share his deep knowledge of nature, of the Maasai Mara and of Maasai people.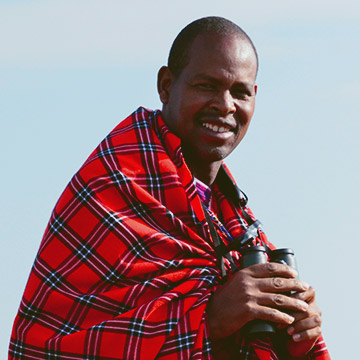 "Big cats are my greatest love, but Africa taught me to respect all the living creatures, even the smallest ones, because each of them play a crucial role in the balance of an ecosystem"
Jackson
Pietro Luraschi
Pietro was born in Milan, where he graduated in Civil Engineering. Since 2003 he has been guiding in Africa.
His passion for Africa stems from a volunteering experience at Tarangire Lion Project, a project with the aim of monitoring and counting lions in the Tarangire National Park, in the north of Tanzania.
Since then his desire to guide, explore and deepen his knowledge of nature has allowed him to work in some of the wildest areas of East and Southern Africa.
Pietro has been a guide and manager in the South of Tanzania – initially in the Selous Game Reserve and later in Ruaha National Park – while guiding safaris also in Kenya, Uganda, Ethiopia, Eritrea, South Africa and Namibia.
In South Africa he has achieved the qualification of Field Guide and Trail Guide Level 3 at the Field Guide Association of Southern Africa (FGASA).
Teaching has been a natural development of his professional skills and at the same time a way to reward Africa for all he has received. He currently trains local guides in Kenya and rangers in national parks around Tanzania.
Pietro speaks fluent Kiswahili and he is a great lover of avifauna and photography, interests that nourish his profession as a guide.
The endless joy in awakening in nature, the wonder of discovering something new every day and the wish of sharing all this with others deeply link him to Africa and to his job.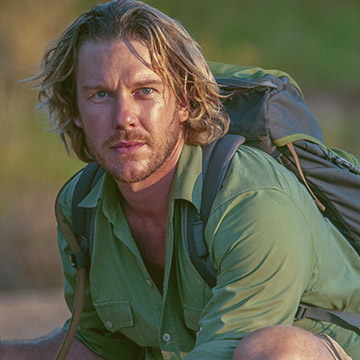 "I love that special moment when I'm so in tune with nature that I know exactly what the animal I'm observing is going to do, before it does it."
Pietro
Sean Pattrick
Sean was born in Johannesburg in South Africa, but grew up in the wild of KwaZulu-Natal. After studying agriculture and farm management in the UK, he returned to South Africa to start his guiding career.
He has worked as a guide for some important lodges in Africa, acquiring a deep knowledge of animals and their behaviour. He has obtained the qualification of Field Guide and Trail Guide Level 3 at the Field Guide Association of Southern Africa (FGASA). He is also an accredited FGASA guide trainer and assessor.
Sean has travelled and guided safaris in Namibia, Botswana, Swaziland, Lesotho, Mozambique, Zimbabwe, Kenya, Tanzania and in his home country, South Africa.
Currently Sean lives at the gates of the Kruger National Park, where he works as trail guide, while taking part in the training of the park rangers.
After years spent travelling in the bush, Sean has become a skilled photographer and organises workshops for nature photography.
He is co-author and photographer of the book Game Ranger in Your Backpack, a practical guide about nature of the Lowveld in South Africa. He is also author of several articles published in travel and photo magazines such as "Africa Geographic".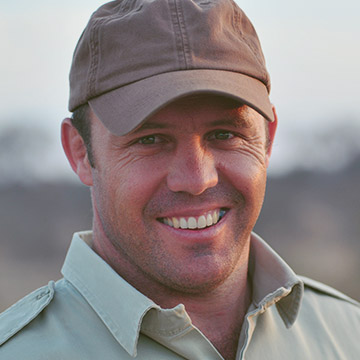 "Africa is my home first, but also a world I will never stop exploring."
Sean
Alessandra Soresina
Biologist, writer and photographer, Alessandra has been studying lions and dealing with the conservation of African big mammals for many years.
After graduating in Biology, Alessandra started her career as a researcher in Africa. For years she has managed the Tarangire Lion Project, a project aimed at monitoring and counting lions in the Tarangire National Park in the north of Tanzania, where she has identified and monitored more than 300 lions.
Alessandra has also taken part in several missions to count mammals and birds in Tanzania and Mozambique. In the last few years she has focused on writing projects, fund rising for several entities and working as consultant on the field.
She is one of the few women who work as guide for private clients, photographers and TV crews. She works for Italian and foreign TV networks and with major nature magazines.
She is a ski instructor on the Italian Dolomites, activity that allows her to finance some of her initiatives.
Alessandra has published three books: A piedi nudi (Edizioni Pendragon), Un giorno da leoni e Questa notte parlami dell'Africa (Edizioni Piemme).
Her photographs have been shortlisted for the international contest Shell Wildlife Photographer of the Year (2006 and 2007) and have been shown at several exhibitions.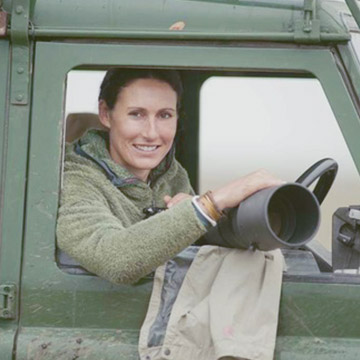 "Everything in me, even my skin, smells of Africa."
Alessandra
Marius Swart
Born and raised in Phalaborwa, at the gates of the Kruger National Park, since his childhood Marius was deeply fascinated by nature and its mysteries. The wonder of those early discoveries, together with his wish to deepen and share them, drove him to start his career as a guide.
Marius has obtained his qualification as Field Guide and Trail Guide Level 3 at the Field Guide Association of Southern Africa (FGASA), where he has also worked as trainer and assessor.
Marius works as trail guide in the Kruger National Park. He has travelled and guided safaris in South Africa, Namibia, Botswana, Angola, Zambia, Zimbabwe, Uganda and Tanzania, where he has worked as resident guide in the Ruaha National Park.
Marius believes that nature is a catalyst of emotions, while being a means to reach self-awareness, awareness of others and of the world.
When he is not working, he enjoys photography, motorcycling and flying over the expanses of Kruger with his ultra-light.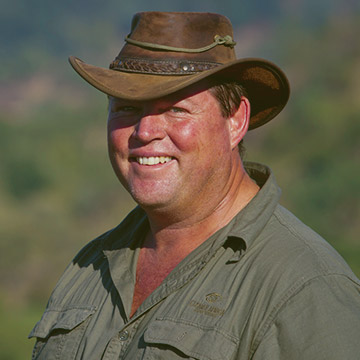 "I'm happy wherever I find mopane trees! I love plunging in nature at its wildest and sharing its magic with other adventurous spirits."
Marius